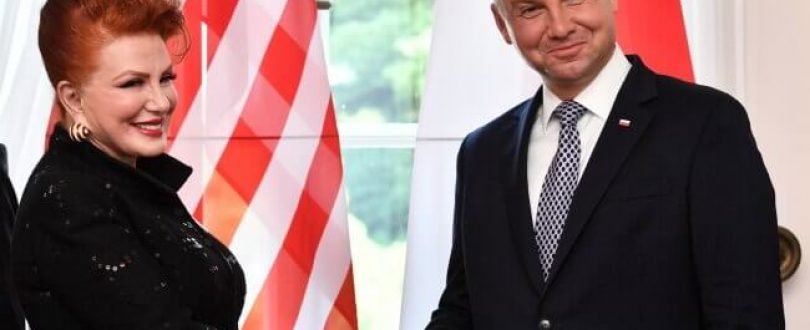 Poles may soon join the other Schengen nationals in traveling to the United States without a visa under business and tourism purposes. After the US President Donald Trump told to the Polish President Andrzej Duda, that the US is considering the inclusion of Poland in the US Visa Waiver Program, the US ambassador in Poland has also promised she would scrap visas to the US for Poles.
Ambassador Georgette Mosbacher in Warschaw, who was officially credentialed by President Andrzej Duda in a ceremony at the Belweder Palace in September this year, said during an interview for the private TVN24 broadcaster that Poles may travel visa-free to the US next year.
"I am committed to getting the visa waiver through by the end of next year," she said, adding that everyone, including her bosses, told her not to make the promise.
Poland remains the only one of the Schengen member states which the US has not placed under the Visa Waiver Program. The reason behind this is that for a country to join the VWP, its diaspora in the US must be below 3%. Whereas, the US has a huge community of Poles living in its states, despite that in recent years the number has dropped below 10%.
For Poland to join the VWP one of the following must take place:
Poland meets the requirements in the program, including the decrease of diaspora under 3%.
The US changes the requirements in the Visa Waiver Program in a way that would allow Poland in.
Trump Tells Duda the US is Working to Scrap Visa Requirements for Poland
During a meeting of United States President Donald Trump with the Polish President Andrzej Duda at the White House, Trump pointed out that the US is seriously seeking the inclusion of Poland in the US Visa waiver program.
"We're looking at that very strongly," Trump said, agreeing with President Duda that the Visa Waiver Program is another way to strengthen cooperation between the US and Poland in fields of security, prosperity, and economy.
If the US places Poland under the Visa Waiver Program, Poles will be able to freely travel to the US without a visa for stays up to 90 days. They will still have to obtain an online travel authorization called ESTA. Thus Poland will become the 39th country that participates in this program. In addition, it will benefit from shared information about suspected terrorists, offenders, lost or stolen documents and other joined security actions.