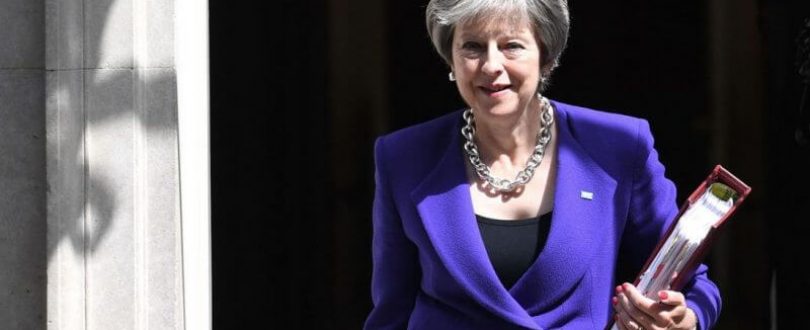 EU nationals will be treated similarly to non-EU citizens, in the post-Brexit UK. British Premier Theresa May has revealed her government's immigration plans on Tuesday, which are to be implemented by 2021.
Through a post on Twitter, PM May announced that a skills-based immigration system, which will end free movement, will be introduced.
"We're introducing a new skills-based immigration system that ends free movement. So for the first time in decades, this country will control and choose who we want to come here. A system that looks across the globe and attracts people with the skills we need," she wrote.
In addition, a key manifesto pledge of the ruling Conservative Party claims that the new so-called skills-based system will make sure to reduce low-skilled immigration.
A White Paper with further detailed information on the new proposed policy will be published in the next coming weeks.
Proposal's Key Points
The main idea behind the proposal on the post-Brexit immigration system is that qualifications, rather than nationality, will determine who comes to work in the UK. However, the rest of key points of this system are as following:
Successful applicants for high-skilled jobs will only be able to bring their families with them if future employers sponsor them.
Passports of short-stay tourists and people from low-risk countries will be scanned at E-gates.
Security and criminal background checks will be done before visits, like the ESTA system.
Workers wanting to stay for longer will have to make a minimum salary that ensures they do not compete with UK workers.
There will be no cap on student visas, but foreign students will have to pay more than British students do.
Reactions to Government's Immigration Plans
Many have criticized the immigration plans proposed on Tuesday, among which the Director-General of the British Chambers of Commerce Dr. Adam Marshall. Marshall believes that though companies will welcome the promise of quicker entry into the country for many short-term businesses, visitors and tourists, the way UK plans to regulate foreigners working in the UK, may damage these companies.
"Ministers must recognize that businesses in every corner of the UK are facing severe skills gaps at every level, and must be able to recruit great people from both here at home and from overseas. Immigration policy is not just about the 'best and brightest', but straightforward access to the skills needed to help grow our economy. The test of the government's new immigration rules will be whether they let businesses access skills and talent quickly and easily when companies can demonstrate that they have been unable to hire or train the people they need here in the UK," he claims.
According to Marshall, controlling immigration is one thing, while giving "the people we need the sense that the UK is closed for business" is another.
At the same time, the UK Hospitality Trade organization has been harsher in their reaction towards the proposed post-Brexit policy, calling it "illogical."
"A system based solely on high skills and high wages will not work for hospitality where we have labor shortages. The sector employs over three million people, many of whom are migrant workers, but under the new policy 90% of these roles could not be filled under planned changes," UK Hospitality chief executive Kate Nicholls says.
Eu Tells Uk Its Nationals Would Suffer Under Skills-based Immigration
Just last weekend, the European Parliament Brexit negotiator, Guy Verhofstadt, warned the UK Home Secretary Sajid Javid that any move that UK takes in discriminating the EU nationals in the UK on basis of nationality or employment would backfire.
According to Verhofstadt, such decisions would cause the EU to apply those moves "reciprocally to UK citizens moving to the EU 26."
"We should be breaking down walls, not building them. Enhancing rights, freedoms & opportunities for our young people instead of limiting them. A discriminatory post-Brexit immigration policy for EU citizens would be reciprocated & we would all lose," Verhofstadt wrote on Twitter.