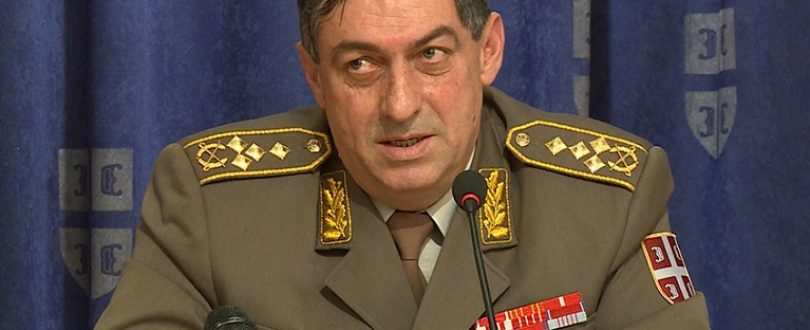 January 11th, 2018
The visa application of Serbian general Ljubisa Dikovic was rejected by the US Embassy in Belgrade. He was invited to a counterterrorism conference in Washington, back in 2017.
The US Embassy in Belgrade did not want to comment on this issue, although the reason for the refusal of Dikovic's application might be because he was involved in war crimes committed by his troops back in 1998-99 in the war against Albanian civilians in Kosovo. He has never tried or convicted for the alleged crimes even though the Serbian human rights groups have accused Dikovic actions.
The Humanitarian Law Centre in Belgrade, in April 2016, had been ordered by the First Basic Court in Belgrade to compensate Dikovic accusing him of involvement in war crimes in Kosovo and Bosnia. HCL had to compensate Dikovic because of "mental distress" caused by the damage to his honor and reputation" as the court decision states.
Later that year, Ljubisa Dikovic and Gen. Vladimir Lazarevic, had been sentenced to 14 years in prison for taking part in a bloody crackdown against Kosovo's Albanians in the 1990s, and former Gen. Bozidar Delic had been invited in order to teach military academy at Balkan countries. The Serbian right groups also demanded the removal of Vulin from his post for "rehabilitating" Lazarevic, at the time.
Dikovic only claimed that he has been part of "the heroic" defense of Kosovo and avoided further comments about his visa denial. However, Aleksandar Vulin, who was Serbia's minister of defense, commented that there will be consequences for the military relationship between both countries due to the visa rejection. He also added that the visa rejection for Gen. Dikovic was unclear and did not understand why the U.S Embassy decided not to grant him the visa.
This process occurred at the same time when the Prime Minister of Kosovo Ramush Haradinaj who was invited to attend events in Iowa organized by the National Guard, got his visa application refused by the US Embassy in Pristina. Just because of the latest incentive of Kosovo Lawmakers that wanted to scrap new War Court announced in December, the process of issuing a visa is slowed down. The US ambassador, the UK ambassador, the US Department and the major countries of the European Union strongly reacted about the decision of Kosovo's Lawmakers.