The US Immigration Authorities are known for their bureaucracy when it comes to foreigners entering their country. The USA may have the highest number of visa types, since it is one of the top destinations for world travelers, for sightseeing, study or business.
Aside from the visa and residency types, the Department for Homeland Security in collaboration with other competent immigration authorities have established other procedures that those arriving at the US have to follow in order to be admitted. Form I-94 is among one of the most confusing for many people. The procedure to obtain one, and the idea behind it, for what it serves and how to use it, is quite simple.
In this article, we have explained everything you need to know about Form I-94.
What Is Form I-94?
An I-94 Form is a record of a traveler's arrivals and departures to and from the US. The Customs Border Protection Office of Field Operations, a subdivision of the US CBP, is responsible for issuing Form I-94. It is issued mostly in electronic format, but also in paper format for those entering through land.
When issued in electronic format, the visitor is provided with an annotated stamp in their passport. On the other hand, when issued in the form of a paper, the CBP officer usually attaches it to the passport of the visitor, and stamps on it the date of departure.
The form, which is a white small card, or a stamp in the passport of the visitor, contains the date until which he or she is permitted to remain in the US, and proves that they have legally entered the country.
Who Needs Form I-94?
In general, all non-immigrant foreigners entering the US through land will get the Form I-94. while the passports of non-immigrant visitors entering through air or sea will be stamped with the I-94 stamp.
Only the following foreigners who come to the US do not need the I-94 form or stamp:
travelers entering the US under the Visa Waiver Program, who have to obtain an ESTA instead
travelers entering the US under the Compact of Free Association
travelers entering using Border Crossing Cards
those entering temporarily as crew members, who obtain Form I-95 instead
As for travelers re-entering via automatic visa revalidation, they should use their old Form I-95, and not obtain a new one.
How to Obtain Form I-94?
You do not need to apply for an I-94 form or do anything to obtain it. You will get it as soon as you appear at the border with your travel documents, valid visa, and other documents in case they are required. The CBP Office of Field Operations (OFO) is the one responsible for issuing Form I-94. The forms are issued at:
the port of entry (air, sea, land)
a deferred inspection site
Actually, for those entering through air or sea, issuance of Form I-94 process begins before they have deported to travel to the US. The visitor's air or sea carrier collects the information about the travelers and sends it to CBP. At the port of entry, a CBP officer screens the traveler and issues an electronic form of I-94.
Whereas for those arriving by land, a border officer will take their information at the border, and issue them a paper Form I-94.
Upon exiting the US, those holding a paper Form I-94 should submit it to the commercial carrier of the CBP upon departure. In case the traveler does not have a paper form, the CBP will record the departure electronically via manifest information provided by the carrier or by CBP.
Sample I-94 Form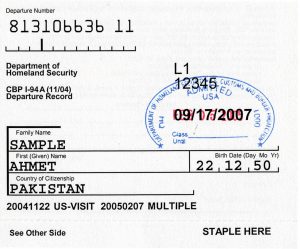 When you enter the US through land, you'll obtain your paper Form I-94. If you do not turn it back when leaving, you will be considered an 'overstay'. Even if you enter by land and leave by air, in some cases your departure may not be recorded. This may make it harder for you to be admitted to the US next time.
Therefore, you should save your form as well as your boarding pass, so you can prove that you left on time, next time you wish to enter the US.
How to Access Form I-94 Online?
You can access your travel information on arrivals and departures from the US within the last 5 years at the I-94 – Official Website.
If you are in the US, and you need some evidence to prove your visitor status, then you can retrieve your most recent I-94 form on this website, as well.
You will have to give the following information for I-94 retrieval:
Passport Country of Issuance
Passport Number
Last Name/Surname
First (Given) Name
Birth Date
In addition, you can also apply for a new I-94, in which case you will need to provide additional information, as following:
Passport Date of Issuance
Passport Date of Expiration
Visa Date of Issuance (if you are a visa holder)
Visa number (if you are a visa holder)
The country that issued the visa to you (if you are a visa holder)
You can also obtain your I-94 number in case you lose it, through this website. In case you cannot access your I-94 number, below you have an explanation of what you are advised to do in these cases.
I-94 "Not Found"
Form I-94 has an 11-digit number in it, which is unique for every traveler. You may need this number at the Department of Motor Vehicles for employment purposes. In case you do not know it or have not saved it anywhere, you can obtain it on the I-94 website.
If you cannot locate your I-94 number, then go to the official I-94 website, and check if you have made any mistakes when answering the questions. Make sure you have given your details correctly, like your name and surname, passport number and country of citizenship.
In case you still fail to find the I-94 number, then contact the nearest US Customs and Border Protection Deferred Inspection Site, so they can assist you.
Form I-94 extension
If you wish to extend your stay in the US or switch to immigrant status, while you are there, you will have to apply at USCIS for the equivalent of Form I-94. You can do that in two ways:
Through form I-129 – a petition for a nonimmigrant worker
Through form I-539 – an application to Extend / Change nonimmigrant status
On the other hand, students on an F-Visa, that wish to extend their stay in the US should update their SEVIS record and obtain a new I-20.